I'm overcome by Apple fanaticism being in San Francisco this week during Macworld.
Jeffery McManus needs a pony…
Not excited about the MacBook Air, even if it is impossibly thin, etc. I don't need a smaller screen and a smaller hard drive, I need a bigger hard drive, 3G wireless everywhere for a fixed rate of $20 a month, and more battery life. And more memory. And a pony. http://mcmanus.typepad.com/grind/2008/01/fake-steve-twit.html
I have to say… And a pony?
Techcrunch has just one more thing…
Now here's the downside. The price. $1799. http://www.techcrunch.com/2008/01/15/air-the-only-thing-left-in-your-wallet-after-you-buy-apples-new-laptop/
Popgadget likes the beauty:
The MacBook Air. Sigh…. It's a beauty. I want to resist, but these MacBooks keep getting thinner and prettier and smarter, like a supermodel with an advanced degree. http://www.popgadget.net/2008/01/macworld_keynot.php
Only images can convey perhaps last year's stock market up's and this years stock market downs for Apple.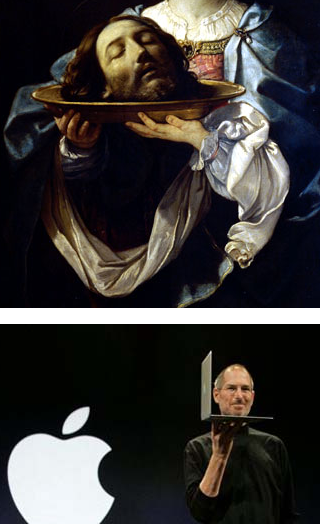 http://blog.caboo.se/articles/2008/1/15/compare-and-contrast